TradeMiner Software analyzes stock market charts for buy/sell Trends
TradeMiner Software analyzes stocks, futrues, forex charts to Identify Historical Seasonal Trends And Market Cycles to make the best buy/sell decision for big profits!
With TradeMiner software, "Stocks tend to have relatively high (or low) returns every year in the same calendar month. The pattern is independent of size, industry, earnings announcements, dividends, and fiscal year. The results are consistent with the existence of a persistent seasonal effect in stock returns."
TradeMiner will rank the historical results of any stocks, futures, or forex according to a proprietary ranking system. This system ranks higher the picks with the greatest historical gains in the shortest amount of time, with the least amount of historical risk. The score ranking works on a scale from zero to five, and includes an easy-to-read, color coded key.
Quickly Scan the stock market with Trademiner software: An easy-to-use software platform that allows you to scan market data seamlessly, identifying historical trends that match your search criteria. The software allows Custom search optimization to create custom groups based on a wide variety of filters including Price Range, Margin per contract, Pip or Tic Value, Volume, P/E, Sectors, Industries, and if the stocks or commodities are optionable. You can Analyze stock market trading graphs. The variety of charts in TradeMiner allows you to see the results of the previous years, identify historical risk vs. reward and see detailed trade logs of past years' trends.
Do you only trade stocks that are under $10, or have a minimum amount of volume? Only looking for energy commodities? What about forex trading or currency pairs that only trade against the US dollar?
With TradeMiner it is easy to select the stocks, commodities, and forex pairs you want and create custom groups. Now your searches will only show a list of picks from the markets you have interest in trading, saving you the added time of sifting through all the results.
What do you get with your purchase?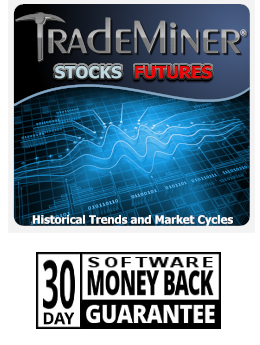 TradeMiner Software,
40+ Years of Historical Market Data
One Year Data Newest Trades Info
($129 each year thereafter)
Proprietary Scoring of Historical Trades
30-Day Software Return Guarantee